Clinox Surface Plus X2 Specifications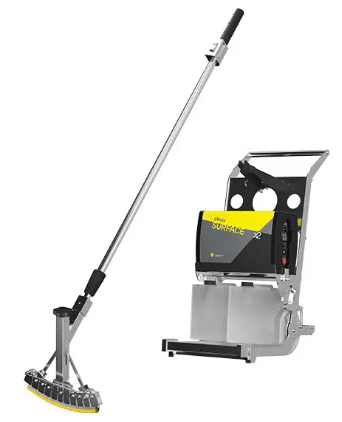 Informatie
Wilt u meer informatie over onze producten neem dan
contact
met ons op. Wij bieden een ruim overzicht aan brochures en fotomateriaal voor oriëntatie.
Wij ontwikkelen ook 'specials' op maat, aansluitend op uw wensen en eisen.
Clinox Surface Plus X2 is the best solution for an ecofriendly and quick cleaning of large stainless steel surfaces. Through an immediate electrochemical reaction, the cutting-edge technology of Clinox Surface Plus X2 ensures pickling and passivation of any stainless steel workpiece, irrespective of the surface finishing, without either wasting time or leaving stains, in complete safety for the operator.
Clinox Surface Plus X2 is a professional system developed specifically for companies treating very large surfaces like silos and tanks for wine and dairy industry.
Fitted with a 9- meter cable connected to a patented 30 cm adjustable radius brush, able to adapt perfectly to any concave or convex surface, Clinox Surface Plus X2– like all the other machines of Clinox line – is equipped with an integrated pump for the automatic transmission of the electrolyte. You don't need to dip the brush in the reagent and operator always works in safety.
Furthermore, thanks to its powerful inverter and a special socket, Clinox Surface Plus X2 can be connected to a second torch with a dip & work brush for pickling, passivation, and polishing of stainless steel welds.