AUTO-EXPAND TUBE- / PIPE END FORMING MACHINES Specifications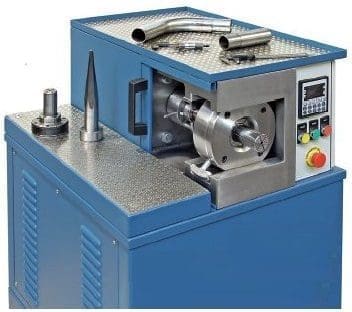 Informatie
Wilt u meer informatie over onze producten neem dan
contact
met ons op. Wij bieden een ruim overzicht aan brochures en fotomateriaal voor oriëntatie.
Wij ontwikkelen ook 'specials' op maat, aansluitend op uw wensen en eisen.
The AUTO-EXPAND AE-65 / AE-75-T / AE-85-T tube- / pipe end forming machines expand or reduce the ends from tubes and pipes.
The idea with expanding is with a gliding tapered mandrel or reducing with allround segmented tooling. It has a lot of benefits towards the "ram-type" tube end forming machines like:
Complete variabel size setting makes it that the machine tools needed are less.
Short tube lenghts can be formed because you don't need lenghts for clamping.
Forming close or in an elbow is possible.
The normal operating time from the machine is 2 - 5 seconds.
The exchange of the machine between expand or reduce can be done simple in approximately 30 seconds. Exchange of the different sizes tooling in the tooling holders can be done in a couple of minutes, which results in a minimum of 'downtime' and a lot of production time.
Settings and operating are manual.
A heavy duty foot switch controls the operating cycle, leaving both hands free for handling the tube / pipe.